Quantum Maker started as a service company in providing services, repairing and maintenance work for general laboratory and medical equipment. Due to customer's demand, we expand our role to become a manufacturer with own manufacturing facility located at Kepong, Kuala Lumpur.
We design, fabricate and produce our own brand, QRLab, and proudly to present them as Made in Malaysia product. And we work closely with REMI Scientific Sdn Bhd, one of Malaysia's renowned Medical Device manufacturer to provide a comprehensive range of product selection to our customers.
As a general laboratory and medical equipment manufacturer, Quantum Maker is committed in producing precise, stable and durable equipment to hospitals, clinics, universities, institutions, laboratories and manufacturing industries. These equipment includes Water Bath (Low & High Temperature), Refrigerated Bath Circulator, Incubator (Low & High Temperature), Orbital Shaker, Hot-plate, Drying Oven, Laboratory Dryer, Laboratory Chiller & Freezer, Pharmaceutical Refrigerator, Humidity Chamber, Chemical Storage Cabinet and etc. All our equipment has been carefully tested and inspected at the factory. It is guaranteed to be free of defects in materials and workmanship.
On our goal to become your "ONE STOP SOLUTION PARTNER", Quantum Maker continues to provide services, repairing and maintenance work for general laboratory and medical equipment and cold-room / walk-in chamber (for both in-house brand and other brand). Other solutions such as equipment modification, custom-made, equipment training, loan unit, temperature calibration and electrical safety test are available.
Quantum Maker is supported with an experienced team of workforce dedicated to deliver the best quality equipment & services and excellent after sales service. Our team of highly skilled personnel is readily to handle any technical issue related to these equipment. As a manufacturer, spare parts for in-house brand and OEM brand are readily available to ensure speedy repairs and recovery, hence, minimizing downtime and cost saving.


Insight of Quantum Maker's activities:
Service, Repair and Maintenance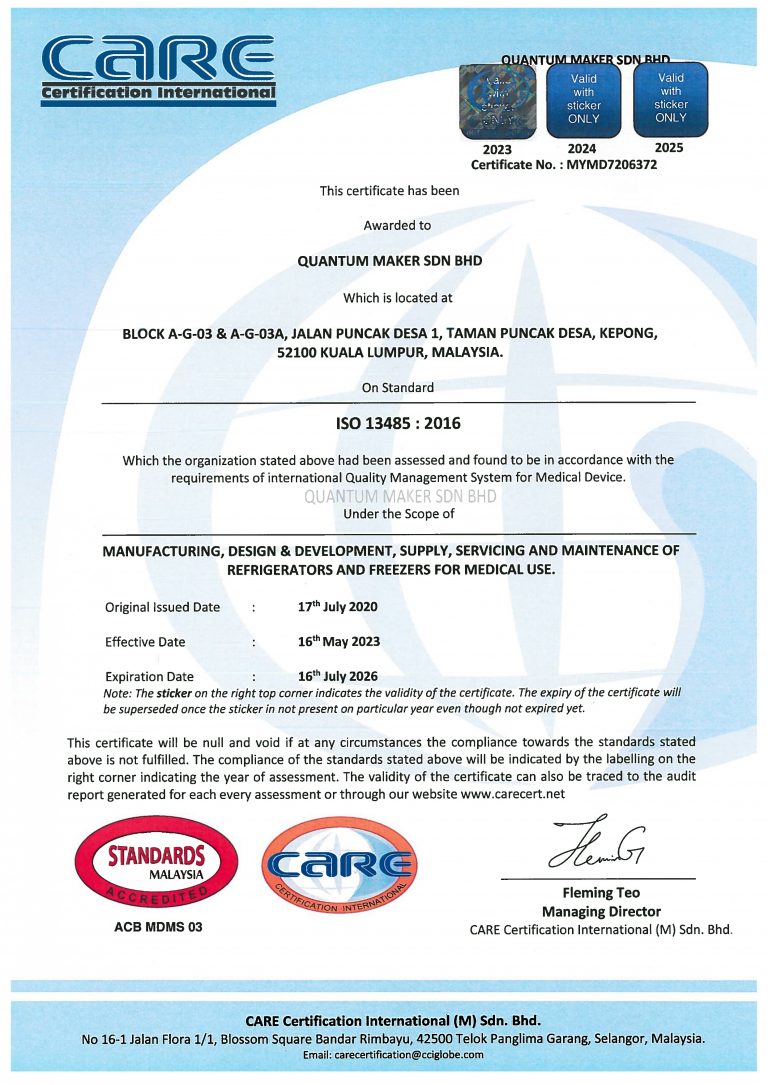 Certification
ISO13485:2016 (Quality Management System for Medical Device)

Under the scope of:
Manufacturing, Design & Development, Supply, Servicing and Maintenance of Refrigerators and Freezers for Medical Use